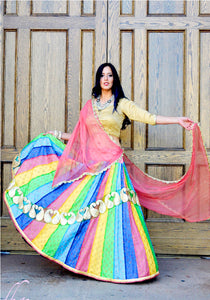 Gopi Skirt Outfit or Lehenga: Three piece set - skirt, blouse/choli and scarf/dupatta - Looks like a saree but much easier to wear. 
 Festival Fashion: There's nothing like the arrival of a new design.  Multicolor panels with dazzling prints and borders.
This Skirt and choli are made with chiffon and lined with cotton/jute fabric for durability. Not to mention our amazing soft silk chiffon dupatta with added borders. 
Skirt waist 36 inches or smaller, skirt length 39 inches or shorter, choli bust 38 inches or smaller. Email us at RGFashions1@gmail.com with your measurements if you need any adjustments.